How to tell if your pointe shoes are not in use anymore.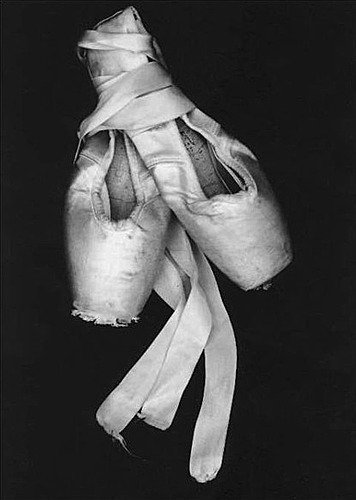 IMAGE SOURCE: PINTEREST
To all of our ballet dancers, it is important to know when your pointe shoes are not good to dance in them anymore and in need of replacing to avoid any injury. Once you start using your shoes more, you will get through a lot more pairs and will know when your pointe shoes are not good to use anymore. 
Here are a few signs of when your pointe shoes have no more dance left:
· If you start to feel the floor through your shoes when you're on pointe while dancing
· The box begins to feel soft and not very supportive
· The shank is no longer supportive or does not feel as supportive as it used to
Also, there are other things to look out for that could mean your shoes are ready for renewal:
· Feeling pain in areas you do not normally feel pain in
· Being unable to push over the box correctly
· Unable to stay on pointe when balancing or turning
If your box or shank becomes damaged or cracked in any way you should look into getting a new pair soon. Don't rely on the shank to tell you when your shoes are dead. The box is just as important in supporting your foot. Both the shank and the box should be giving you support and if one isn't then it's time for some new pointe shoes.
Danzia.com offers a great pointe shoe program up to 18% off, so hurry and get the offer today!
An amazing pointe shoe programs just for you!
· Buy your first pair of pointe shoes, get 12% OFF
· Buy your second, third and ongoing pair, get 15% OFF
· After the tenth pair of purchase, you will get 18% OFF
* No coupon needed, just create an account with danzia and the coupon code will apply automatically!
Learn more: Pointe Shoe Program
Follow us @shopdanzia and tag us your pointe shoe! #shopdanzia #danzia
:)